What are Exorcist ?
Exorcist is the one that kill akuma (demon) for world's peaceful.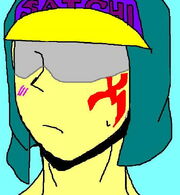 Now Exorcist is just 4 in one whole world :
THE ONE THAT JOIN IN EXORCIST PIRATES CREW.
Where can we find Exorcist ?
Well, a myth said if we find the base of Black Exorcist, we can meet another Exorcist that from every country. (That make Heart believe and keep searching).