Profile :
Name :
Heart Web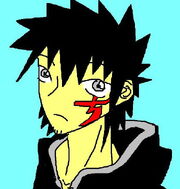 Nickname : Heart
Age : 22
Species : Human - Curses
Occupation : Exorcist, Vice Captain, Cook
Pirate : Exorcist Pirates as Vice Captain and Cook
Pirate Ship : Saint Exorcist
Gender : Male
Birthplace : -none-
Birthdate : 7 / 7
Height : 6 ' 80
Weight : 50
Dream : find the Black Exorcist Base
Bounty : 125.000.000
Weapon :
Boxing gloves, Anti-Akuma Weapon
Introducion
He's a guy that be a Vice Captain in Exorcist Pirates. He raised together with Lavi, Ryoko, and Shinobu in orphanage at somewhere in South Blue. Even he look ignored Lavi as his captain, he respect and trust her from bottom of his heart.
Personality
He's cool, cool-headed guy, and a little late to recognize something. Don't smile too much, but if see something funny, he'll laugh like a kid.
Technique
" Hand of Fate "
Heart hit the earth and make every opponent fall into earth.
" 100.000 Hamburger Punch "
Heart eat a hamburger and then punch single opponent 100.000 times until dead.
" Exorcist Power "
Heart out his Exorcist power but still have a mind. He slay an akuma.
Another Crew