Nick
Age: 10
Gender: Male
Species: Bird Beast
Blood type:
Birthdate:
Height:
Weight: 20 kb
Island of Origin:
Occupation: Pet
Epithet: Steel Storm
Crew: Ahou Pirates
Position: Pet
Family:
Current Bounty: 30,000,000
Bounty History
1st Bounty:
Reason:
Dream:
Page created by: Monkey.D.Me
Introduction
Nick is Bird-Beast and currently pet of Dragon.O.Neptune.
Appearance
Nice is regular eagle but is Bird-Beast specie. He is the last of his kind od eagles who has the body structure to fly in seas of New World.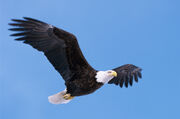 Personality
Nice is calm and loyal but when it comes to his owner Dragon.O.Neptune, he turns aggressive and its leads to fights.
Abilities and Powers
Hand to Hand Combat
Nick uses his craws in ground fights and also uses his wings to send strong gust of winds.
Physical Strength
Monster strength.
Agility
Fly
Endurance
Weapons
The user can transform his/her bldy into Titinum Steel.
Summary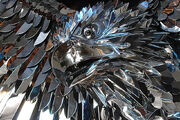 Type
Usage
Kenbunshoku Haki: Color of Observation
Nice's Color of Observation Haki 'was awaked when he saw his entire group of birds killed in front of his eyes which included his little brothers and sisters.
Relationships
Crew
Allies/Friends
Enemies
History
Character Design
Major Battles
Quotes
Trivia
Ad blocker interference detected!
Wikia is a free-to-use site that makes money from advertising. We have a modified experience for viewers using ad blockers

Wikia is not accessible if you've made further modifications. Remove the custom ad blocker rule(s) and the page will load as expected.